Can we visit your home – pass from the front door to the heart?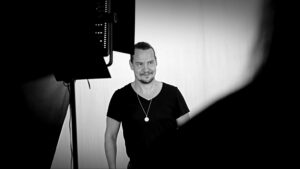 Residents of the Haaparanta and Tornio area now have the opportunity to participate in the artworks of media artist Kari Toiviainen. Kari visits the homes of willing local residents and records in video format people's thoughts, feelings, memories and highlights of life through some important "memory object" in the home.
The working title of Kari's exhibition is "From the Front Door to the Heart". Filming sessions are about two hours of conversation, which Kari videos. In addition to this, the home and it's surroundings may be filmed. At the meetings, you can also sing, hum, recite poems, play an instrument and perform in other ways. The art works will contain video and/or sound.
We are looking for diverse people of different ages and from different cultural backgrounds for visiting moments. The visit can be spend in Finnish, Swedish or English. The visits take place in weeks 39 (26.9.–2.10.) and 43 (24.–30.10.).
During the fall of 2022, the Making Space for Artistry project of the Aine Art Museum and the Culture for All service going on in the Haaparanta and Tornio area. As part of the project, media artist Kari Toiviainen will visit the Haaparanta-Tornio area several times during the fall of 2022. The finished works can be seen and heard in the Haaparanta library in November 2022 and in the joint exhibition of the project in early 2023.
"We don't just live in the present. The past with all its memories, incidents and experiences lives in us, and it can often happen that the past is stronger than the present."
Do you want to participate in the works or do you want to ask more questions? Please contact us!
Media artist
Kari Toiviainen
+358 50 4961225
karijutoiviainen@gmail.com
Making Space for Artsitry project
Aine Art Museum
Virpi Kanniainen
Museum director
+358 50 597 1197
virpi.kanniainen@tornio.fi