Steering group
Steering group is a group of people who follow how the project develops, and supports and steers the project. The task of the steering group is to act as a thinking companion, to outline directions and to be a critical friend. We meet the steering group twice a year.  
Making space for artistry project is disabled-led. It means, that the steering group, employees and other makers of the project include many artists who are disabled or sign language users. 
Rosanna Fellman
Rosanna Fellman is a spoken word poet, author and activist from Finland. Fellman writes multilingual political poetry with humoristic tendencies. Her first book Strömsöborna received the Finnish culture prize Vimma in 2019 and the book was also nominated to Finland's public service company Yle's poetry prize The Dancing Bear in 2020. Her second book Republikens president – Tasavallan presidentti was published in spring 2022. 
Nadja Leham
Nadja Leham graduated from Åsa folkhögskola's Five Style Street Dance education in June 2022 and has been working with dance, performance and writing. She received a Bachelor's Degree in Social Work and Social Politics in 2020 and is within this field especially interested in welfare nationalism and questions around work. Accessibility within the arts builds upon the general accessibility in society, which for example means access to health care, housing and equal access to crossing borders of nation states. Within the politics of arts, she wants to highlight this. She is a part of Just Another Crip Group and Crip Care Network Helsinki. She always returns to the artistic possibilities of lip synch and would like to learn more about burlesque and other forms of art that are mostly performed in a club environment. In august 2022 Leham entered Riveria's education in dance in Outokumpu. 
Aku Meriläinen
Aku Meriläinen graduated as a stage designer from Aalto University in 2017. They develop new types of practices beyond the prevailing expectations and conceptions in works that combine media art and performing arts. Currently, Meriläinen is interested in the possibilities of the artistic process and new technologies to identify discriminatory cultural features from a crip perspective. 
Meriläinen's works have been presented in Kiasma Theatre, Edinburgh Fringe Festival, Finnish National Theatre, Venice Research Pavilion, Tampere Theatre Festival, Lain§uojattomat Festival, Mad House Helsinki, Joensuu City Theatre and Rovaniemi Theatre. 
Jussi Rinta-Hoiska
I am Jussi Rinta-Hoiska, a self-taught art photographer. I was born in Southern Ostrobothnia, nowadays I live in Hyvinkää. I mainly work as a personal assistant, in addition I have worked for a long time in the cultural field, for example as an actor, stage designer, presenter and in teaching and jurying photography. Photography is my real mother tongue as my Finnish language skills are not sufficient to express my thoughts. Through photography, it is possible. As a photographer, my goal is to explore the symbolisms in an image and develop my technique further. I have been deaf all my life. By nature I am calm, friendly and I have a good sense of humour. I like to have conversations, to listen and to think. I have received awards for art photography, for example from the Wäinö Aaltonen Society in 2011 and I won the Finnish Association of the Deaf Sports' Olympic logo competition in 2010. I also participated in exhibitions at Mänttä Art Festival in 2021.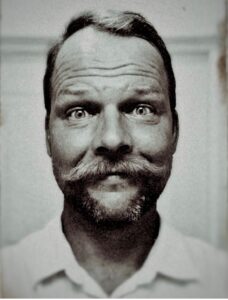 Nikolai Klix
(in memoriam)

Nikolai Klix was born in then West Berlin and moved to Helsinki, Finland as a child. He has been doing performing arts as a hobby when he was younger and worked as the cultural secretary of the disabled people's human rights organisation The Threshold in 2019. Nikolai was working on his article-based PhD dissertation in philosophy at Tampere University. The topic of his dissertation would have been the common public approach on societal diversity. He examines which concepts are commonly being employed to depict this approach and how these concepts may on one hand perpetuate, and on the other hand emancipate societal power relations. One aspect of his work was also to scrutinize the character and quality of recognition relations between different groups in society induced by the utilisation of these concepts.  Nikolai passed away in August 2023.